Title

[News] Frudia, Successfully Launching the First Broadcast of Naver Shopping Live Commerce
Date

2021.02.24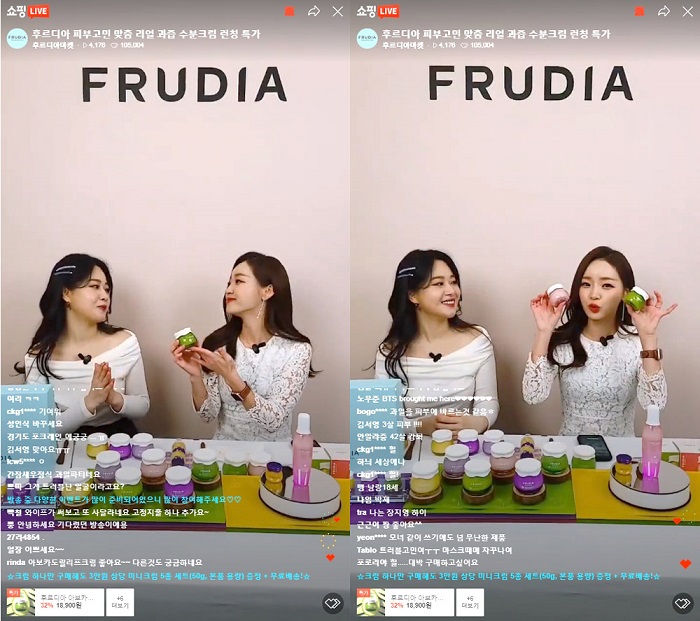 Frudia, a clean beauty pure-juice skincare brand of Welcos(CEO Kim Young-don), has successfully finished 'Naver Shopping Live' on the 18
th
.
Frudia's first live broadcast took place on Naver Shopping Live Channel at 11 a.m. on February 18, which was hosted by the show hosts, Kim Se-young and Cha Yu-jin, catching the viewers' eyes for about one hour by showing the perfect chemistry with Frudia.
Prior to the live broadcasting, Frudia started the live broadcast with various entertainments such as pre-event. They communicated with customers in real time and stimulated engagement through various special benefits provided only during the broadcast. The six types of real fruit-juice cream customized to skin troubles prepared in the first broadcast were presented at a special price to commemorate its launch, and every customer was given five types of mini creams worth 30,000 won and free delivery applied to all products regardless of purchase amount.
"We are grateful for your interest and support, even though it is our first time meeting customers through Naver Shopping Live. We will continue to present live broadcasts with special benefits and various events, so please show lots of interest and love," said a Frudia official.
news2day, 19th February
2021

게시글 등록시에 입력했던 비밀번호를 입력해 주세요.