Title

[News] Medipam, selected as a joint brand representing the nation, 'Brand K'
Date

2021.06.21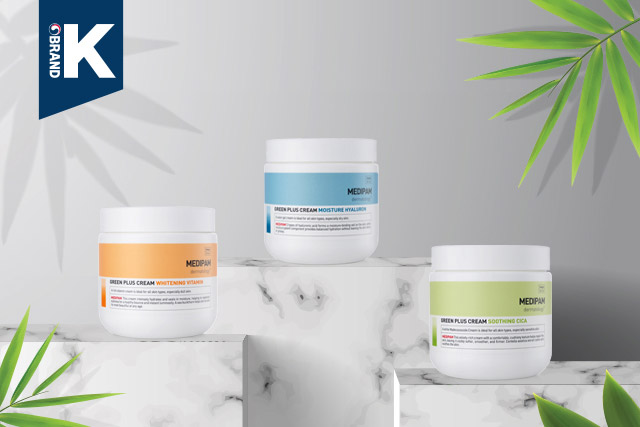 Welcos (Kim, Youngdon, CEO) announced on the 7
th
that 'Medipam Green Plus Cream' was selected for the third round of the 'Brand K' program.
'Brand K' is a support program in promotion and exports. It bestows a joint national trademark 'Brand K' for consumer goods of high quality manufactured by small and mid-sized businesses to help them raise awareness and enter into foreign markets.
The third round of 'Brand K' finally selected 70 distinguished products from small and midsized businesses. For beauty and hair products, 28 including 'medipam green plus cream' were on the final selection list.
'Medipam Green Plus Cream' selected for the Third round of 'Brand K' is a year-round derma-cosmetics that feature moist and refreshing formula. Three line-ups of whitening, relief and moisturizing provide various options for customers for their skin concerns. Moreover, Effective ingredients like Hippophae Rhamnoides Oil (whitening vitamin), Centella Asiatica Extract (soothing cica), and Hyaluronic Acid (moisturizing hyal) nourish the skin bright and moist.
Also, 'Medipam Green Plus Cream' is KFDA-certified dual functionality cosmetics with whitening and wrinkle reduction. Moisturizing, wrinkle reduction, as well as skin tone enhancement, can all be managed at once with this functional cream.
Ingredients are EWG GREEN grade, excluding 20 harmful ingredients from Hwahae. It passed the low-irritation test of the Korea Dermatology Research Institute to ensure safety and efficacy. A whole family can share its cost-satisfactory high-volume package of 500g.
A source from Welcos expressed the company's vision that "As distinguished quality and functionality were verified by the government; we will leap forward to grow as a global brand taking advantage of the government's progressive support policies."
Welcos, Co., Ltd. is a naturalist cosmetics company that conveys happiness through beauty. We offer both in-house brand and ODM products, loved by customers around the globe through exporting to around 30 countries including the United States and China.

CMN, 17th June 2021

게시글 등록시에 입력했던 비밀번호를 입력해 주세요.