Title

[News] FRUDIA to 'the world!' Launching in Singapore on January 2017!
Date

2016.12.07
Frudia to 'the world!' Launching in Singapore on January 2017!
Participating Hong Kong Exhibition… Confirmed potential for K-beauty of next generation!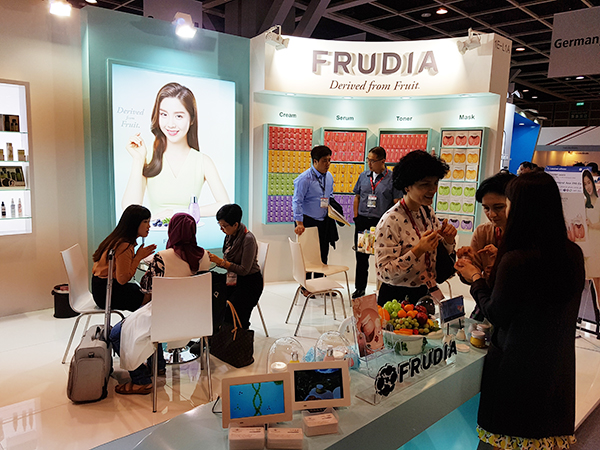 Fruit skin care brand, FRUDIA, claimed that the brand is planning on making the global market in full scale by launching in Singapore on January 2017 at the first onset.

Earlier during 'Hong Kong Cosmoprof 2016,' proceeded for 3 days since November 16th, Welcos focused on promoting FRUDIA Brand with its distinguished concept and design of 'Fruit Skin Care of New Concept' and attracted public attention. The brand was well-received from visitors and buyers, and as a result, it could successfully confirm the potential for K-beauty brand of next generation.

FRUDIA, launched newly this year, is the brand, originated from the integration of every know-how of Welcos from 30 years of fruit research. FRUDIA fruit cream, born from the optimal extraction and mixing ratio, was especially acclaimed by audiences and foreign buyers.

Having green grape, pomegranate, tangerine, and blueberry's extract as the main ingredient, FRUDIA can be used for sensitive skin. In addition, through R VITA W™, the special feature of this product, FRUDIA prevents any loss of active component and uses extracted fruit juice as toner.

Unique form of cream with special feature for each product and design package which resembles fruit jam attracted attention from many staffs and executives of the industry. According to a staff from FRUDIA, foreign buyers from not only Asia but also from America and Europe inundated with inquiries and consultation requests.

CMN, Nov. 29. 2016

게시글 등록시에 입력했던 비밀번호를 입력해 주세요.