Title

[News] ​FRUDIA, entering 'CVS Pharmacy,' the Drug Store in the United States
Date

2017.05.17
FRUDIA, entering 'CVS Pharmacy,' the Drug Store in the United States
Selling at K-Beauty Zone in 2,100 stores, fully entering the American market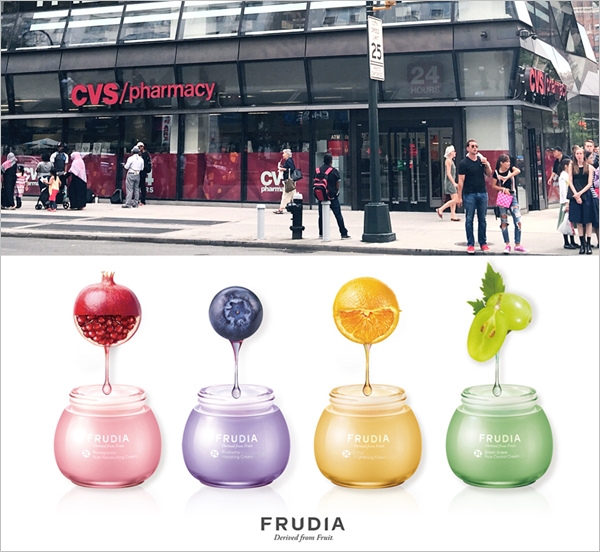 Fruit skin care brand, 'FRUDIA,' of Welcos (CEO Kim Young-don) has successfully entered 'CVS Pharmacy,' the representative drug store in the United States.

CVS Pharmacy, where FRUDIA has entered, is one of the biggest chain drugstores in the United States, dealing with life style products, ranging from the well-being life products to the beauty and cosmetic products. There are 9,700 stores throughout the United States, and are well known as the distribution channel of the easiest access.

CVS Pharmacy has installed K-Beauty Zone in 2,100 stores, by working together with Peach & Lily (CEO Alicia Yoon), the K-Beauty pioneer in the United States. Frudia is selected as one of the representative K-Beauty brands, and is officially launched at CVS Pharmacy.

Alex Perex-Tenessa, the vice president of CVS, exposed his confidence on the successful spread of K-Beauty, claiming that "K-Beauty, focusing on entertainment, health, and beauty at the same time, will lead the global beauty market, beyond simple trend, and the customers are ready to respond to such phenomena."

In the meantime, 'FRUDIA,' the fruit skin care brand of Welcos with 30 years of fruit research knowhow, seeks to maintain the original anti-oxidant energy of fruit at most by extracting juice with R VITA W™ methodology. The brand has been introducing the truly healthy 'fruit therapy skin care' for the ladies in their 20s and 30s, fatigued from stress and harmful environment. Launching at CVS Pharmacy enables the US, following other foreign markets such as Singapore and Malaysia, to enjoy Frudia, in addition to the domestic consumers.

Total of 16 items, including four lines of cream, serum, and toner, along with four types of mask packs are to be launched first. These four lines are: 'Blueberry Hydrating Line,' which provides moisture with the blueberry extract of clean Jeju, 'Citrus Brightening Line,' which helps whitening with vitamin C and flavonoid component of citrus, 'Green Grape Pore Control Line,' which creates smooth skin with tannin component of green grapes, controlling pores and sebum,' and 'Pomegranate Nutri-moisturizing Line,' which provides deep moisture and nutrition with the polyphenol component of pomegranate.

A staff of FRUDIA stated that "FRUDIA is a skin care brand, born by reflecting the global trend of seeking for healthy life style, and creates healthier and vivid skin by applying nutrition of fruit directly to skin." She added that "FRUDIA will make the best effort to become a representative brand of K-Beauty, by expanding the market not only in Korea but also in the US.


26. 4. 2017, Jaunub News

게시글 등록시에 입력했던 비밀번호를 입력해 주세요.