Title

[News] Special care from scalp and hair root with vitamin capsule
Date

2017.05.17
Special care from scalp and hair root with vitamin capsule
Released 'Healthy Solution,' the premium quasi drug to prevent hair loss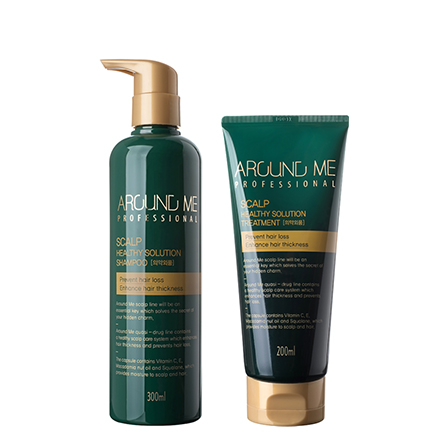 Welcos has released the premium hair loss care product, which can prevent hair loss simply by shampooing hair every day.

Total healing care brand, 'Around Me,' has introduced two types of new product, 'Scalp Healthy Solution.' This scalp healthy solution line, composed of shampoo and treatment, is a hair loss exclusive product, which has acquired license as quasi drug to prevent hair loss from KFDA.

Yellow vitamin capsule, the key feature of these two new products, contains the nutritional component, such as vitamin and macadamia nut oil. While providing direct scalp massage, capsule bursts and provides nutrition and moisture to scalp and hair. Moreover, herb ingredients, including royal jelly, peppermint, and calendula, add healthy care to easily sensitive scalp, hair root, and hair.

Scalp Healthy Solution shampoo gently washes hair by removing irritation on scalp and hair root through the nature-oriented surfactant and non-silicon formula. Rich bubbles cleanse sebum and keratin, which may cause hair loss, while adequate amount of menthol component soothes scalp and offers a feeling of refreshment.

Scalp Healthy Solution treatment is a total care treatment, which can be used from scalp to hair. By adding camellia oil, the product easily penetrates into hair, which can easily become rigid after using exclusive hair products for scalp care and hair loss, and creates smooth and shiny hair.

A marketing staff of Around Me claimed that this product refreshes users with gentle and fresh herb fragrance while providing full care from scalp to hair, different from the products which used to focus only on preventing hair loss. She added that this product is available at LOHBS stores throughout the country.


8. 5. 2017, CMN

게시글 등록시에 입력했던 비밀번호를 입력해 주세요.