Title

[News] FRUDIA, "Blueberry Hydrating Honey Lip Balm"
Date

2017.11.09
FRUDIA, "Blueberry Hydrating Honey Lip Balm"
A lip care balm that offers volume and hydration to lips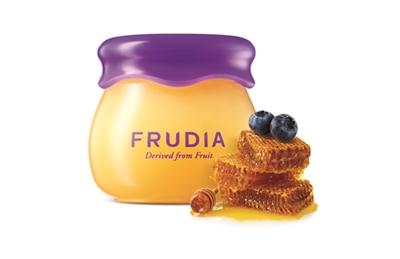 Welcos Co., Ltd (CEO: Young-don Kim)'s global skincare brand FRUDIA which offers fruit-derived skincare products, has launched "Blueberry Hydrating Honey Lip Balm," a new lip plumping balm that gives volume and hydration to dry lips.
Also known as "honey juice lip balm," Blueberry Hydrating Honey Lip Balm differentiates itself as a fruit-derived beauty product both in terms of package and ingredients. This product's container brings up the image of a jar of fruit jam and honey. Blueberry juice and honey, its main ingredients, are extracted through an independently developed low temperature juice extraction technology R VITA W™ to deliver ultra-moisturizing effect and sweet flavor.
Naturally derived moisturizing ingredients are gently immersed into the lips to create a protective film and help maintain moisture on the lips. This Lip plumping balm instantly gives natural volume and heathy sheen to the lips so it can satisfy consumers with various concerns whether it be dry lips or thin lips.
"It does not leave stickiness while giving long-lasting moisture to the lips," says FRUDIA's product planning manager. "This product will greatly appeal to female consumers as its cute package and sweet flavor offer a pleasant experience."
It is available at FRUDA's online shopping site (
www.frudia.com
). Contact information: 080-782-9155


Jangup News, 14. 9. 2017

게시글 등록시에 입력했던 비밀번호를 입력해 주세요.