Title

[News] "Our company's drive for innovation enabled us to create blue oceans"
Date

2017.11.09
"Our company's drive for innovation enabled us to create blue oceans"
Marking the 31
st
anniversary of the founding, Welcos pledges to continue to move towards its shared goals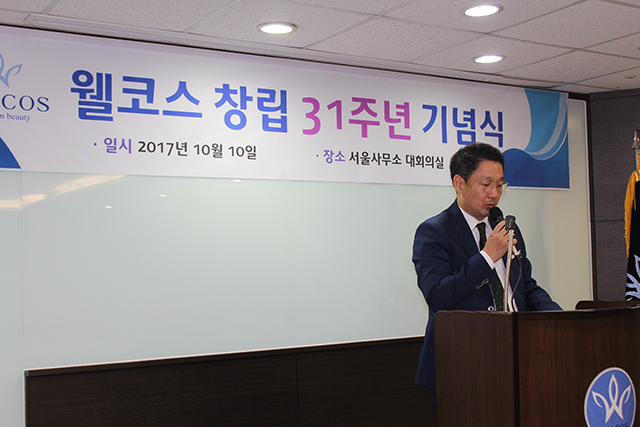 "Our company's untiring drive for innovation enabled us to create blue oceans amid fierce competition in red oceans. As we celebrate our 31st anniversary of the founding, let us bear in mind that each and every one of us must take the ownership and assume the responsibility for what we need to do and continue to move toward our shared goals.

In a ceremony held at the headquarters in Yeoido, Seoul, to commemorate the 31st anniversary of the company's foundation, Young-don Kim, CEO of Welcos praised his employees for their hard work and reiterated the importance of innovation as a growth engine.

Welcos, formerly Hyundai Cosmetics Industrial, was founded on the 10th of October in 1986. The company launched the first Korean hair straightening cream and achieved a rapid growth after its nose pack made a big hit. The product was also known as Bae Yong-joon nose pack, naming after a South Korean actor who appeared in the TV commercial. In April 2017, Welcos launched its global skincare brand FRUDIA in the United States, and then expanded to other markets around the globe. Currently FRUDIA has been well received by consumers in the United States, China, Hong Kong, Russia and Southeast Asian countries.

Long-serving and high-performing employees were awarded at the ceremony. Director Sun-mi Lee at sales management team was awarded crystal and gold medals, and travel voucher as a gift for 25 years of employment. Director Deuk-soo Kim at administration team and four employees were awarded for 20 years of employment. Nine and eleven employees were also awarded for 15 years and 10 years of work, respectively.

Following the awards for long-serving employees, high-performing employees who greatly contributed to the growth of the company for the past year were also praised for their credit. Jia-chen Wu at overseas sales team 2, Eun-ha Jeong at production team, and Ki Sung (the top position as a production employee) were given excellence awards and prizes.

CMN, 18. 10. 2017

게시글 등록시에 입력했던 비밀번호를 입력해 주세요.