Title

[News] 15 Kinds of Furdia Juice Therapy Hand Cream Released
Date

2018.01.08
15 Kinds of Furdia Juice Therapy Hand Cream Released
'My Orchard' hydration and fragrance at once! Ample with juicy fragrance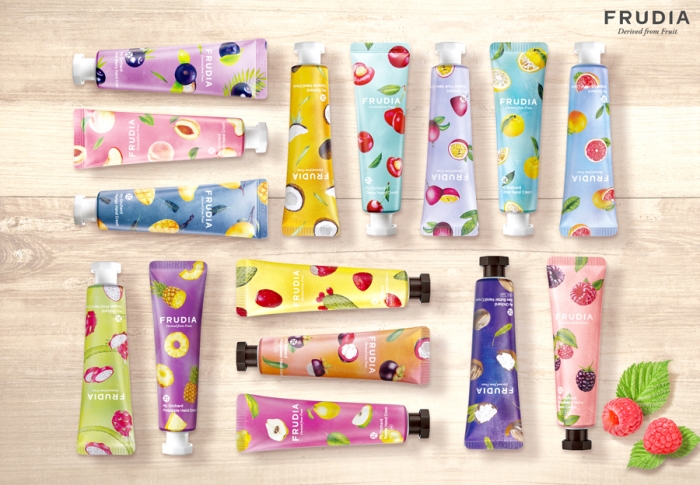 A new-concept skincare brand Frudia of Welcos (CEO Kim Young-Don) launched 15 kinds of My Orchard Hand Creams that are juicy therapeutic hand creams for delicate hands.

The seven kinds of concentrated oils extracted from the seeds of fruits along with honey and shea butter provide deep moisture and fine luster on hands that will stay hydrated for a long period of time.

Ten types of them are highly concentrated and nutritious soft creams to include mango, peach, cherry, acai berry, dragon fruit, citron, pineapple, grapefruit, fashion fruit, and coconut. The rest include shea butter, mangosteen, quince, and cactus, and they are highly moisturizing butter-type cream formulas.

You can choose whichever you like depending on your taste, mood, and condition. My Orchard Hand Creams are therapeutic hand creams highly concentrated with fruit extracts as if they are freshly squeezed from the orchard, offering you a juicy fragrance that lasts for a long time.

The product planner of Frudia explained that "these products are excellent for the protection of rough hands that easily go worn out in dry weather and work well for delicate hands. You can meet at Frudia online or at the Olive Young store in Myeongdong."
CMN, 26. 12. 2017

게시글 등록시에 입력했던 비밀번호를 입력해 주세요.