Title

[News] Welcos sponsors "CICI KOREA 2018" award
Date

2018.01.31
Welcos sponsors "CICI KOREA 2018" award
Frudia's Four Fruit Juice Creams and Blueberry Honey Lip Balms were offered as gifts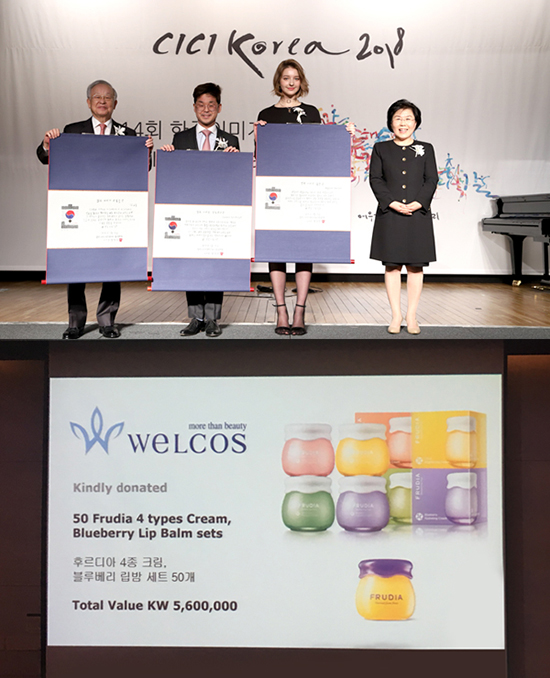 Welcos (CEO Kim Young-don) attended the 'CICI Korea 2018' ceremony held at Harmony Ballroom in Grand Intercontinental Hotel, Samsung-dong, Gangnam-gu, Seoul, on 16 January this year.

'CICI Korea 2018' is a prize awarded by Corea Image Communication Institute to people, objects and organizations that promoted Korea overseas in recognition of their contributions to the advancement of the impression on Korea and the "Korean Wave."

The Korea Image Stepping Stone Award, which is awarded to a Korean or an organization that contributed to the spreading of the image of Korea to the world this year., went to CJ Group. The Korea Image Stepping Stone Bridge Award, awarded to a foreigner or a foreign organization that served as a bridge to promote Korea overseas, was granted to Joachim Son-Forget, a Korean French Congressman. Lastly, the Russian star Angelina Danilova received the Korea Image Flower Stone Award.

The ceremony was attended by about 700 foreign and domestic leaders to include diplomatic envoys, politicians, artists, and journalists. Former Prime Minister Han Seung-soo and UK Ambassador to Korea H.E. Charles John Hay gave congratulatory remarks followed by Lee Hee Beom, President of the 2018 Pyeongchang Olympic & Paralympic Games Organizing Committee.
Welcos participated in the event as a GOLD sponsor. Welcos received a great applause from the crowd by sponsoring with "Frudia's Four Fruit Juice Creams and Blueberry Honey Lip Balm Sets" that began to be sold in CVS Pharmacies in the US and Gold Apple stores, a Russia's beauty shop.
29. 1. 2018, CMN


게시글 등록시에 입력했던 비밀번호를 입력해 주세요.