Title

[News] Green grapes of removing blackhead # 'peel like scrubbing' nose pack
Date

2018.09.03
Green grapes of removing blackhead # 'peel like scrubbing' nose pack
'FRUDIA Green Grape Soda Bubble nose pack.' All you need to do is to smear it on the nose.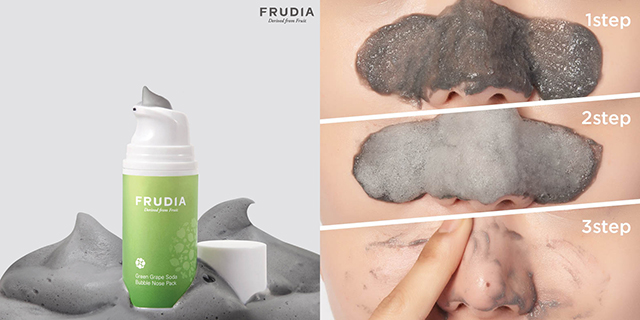 Skin care brand, FRUDIA, revealed new type of nose pack that melts the black head with sparkling lather like green grapes soda. It's named 'Green Grape Soda Bubble Nose Pack.'

Green grape Soda Bubble Nose pack contains 10,000ppm of grape extract and its main ingredient, tannin, cleans the residues off the skin. When apply this sticky gel onto nose, microscopic bubbles are formed, melting the dead cell skins away, and after 3~5 minutes the thickness of bubble sinks down to work as a gommage which can peel the dead cell skin once more by gently rubbing it off. This is the reason it got the catch phrase 'peel like scrubbing' nose pack.

This product designated for those suffering from black head and dead cell skin around the nose, or those with large pores Six different types of paraben (Methylparaben, butylparaben, ethylparaben, propylparaben, isobutylparaben, isoproplyparaben, benzophenone-3), and coloring not included.

A personnel from Frudia also commented "New trend of nose pack consist of three step : opens the pore, extract the sebum, then closes the pore again, which is a drag for some consumer to use. For FRUDIA's Green Grape Soda Bubble Nose Pack, all you need to do is to apply it on the nose and lather automatically appears, melting the dead cell skin and blackhead off while gommage peeling from cotton extract gets rid of dead cell skin once more, with gentle touch. It's perfect to help you keep clean and smooth nose.
16th, 8. 2018, CMN


게시글 등록시에 입력했던 비밀번호를 입력해 주세요.