Title

[News] ​FRUDIA, took center stage at 'Cosmoprof Asia Hong-Kong 2018'
Date

2018.12.10
FRUDIA, took center stage at 'Cosmoprof Asia Hong-Kong 2018'
Spurring to take over the overseas market with various products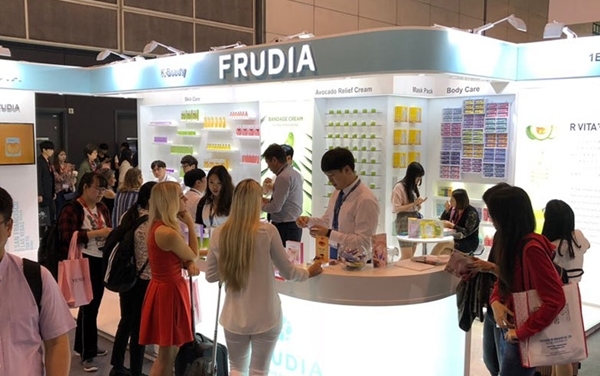 FRUDIA, a new fruit-based skincare brand of WELCOS (CEO Youngdon Kim), attracted the attention of foreign buyers and visitors with a variety of products at 'Cosmoprof Asia Hong-Kong 2018' held from the 14th to 16th.

Over 3,000 companies from 50 countries around the world participated in the 23rd 'Cosmoprof Asia Hong-Kong 2018', which is the biggest beauty expo in Asia. 650 companies from Korea also participated in this year to complete the expo successfully, marking the largest in scale ever.

In this expo, FRUDIA attracted people's eyes with basic skin care products based on 100% fruit water slowly extracted from fruits at low temperature and introduced 5 types of new masks to be launched.

All ingredients are certified with EWG green grade to ensure safe use on sensitive skin. 'Avocado Relief Cream' with the proven effect of reducing skin damages and long-lasting 'Blueberry Hydrating Honey Lip Balm' with excellent moisturization using blueberry juice preserved in honey received the most attention.

The official of FRUDIA said, "We saw the high possibility to grow in foreign markets when foreign buyers from all over the world stampeded into our booth from the first day of the expo. With this as an opportunity, we will expand the major distribution channels to overseas and find new markets to grow as the representative K-Beauty brand."

Meanwhile, FRUDIA has advanced to over 10 countries including the Southeast Asian market such Singapore and Malaysia, the U.S. with the largest beauty market in the world, China, Japan, Europe which is the birthplace of cosmetics, Russia which is rising as an emerging market, Ukraine and Mexico.
November 28th. 2018, Jangup News

게시글 등록시에 입력했던 비밀번호를 입력해 주세요.