Title

[News] ​FRUDIA's "Blueberry Honey Lip Balm" Proven by GLOWPICK of Product's High Moisturizability
Date

2019.03.05
FRUDIA's "Blueberry Honey Lip Balm" Proven by GLOWPICK of Product's High Moisturizability
Customer satisfaction survey shows favorable response of its high moisturizability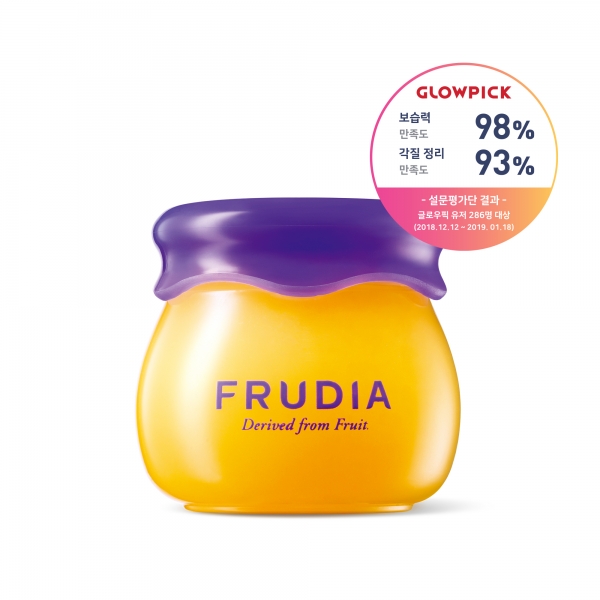 FRUDIA, a new concept pure-juice skincare brand of WELCOS (CEO Kim Young-don), conducted a survey of 286 users of GLOWPICK, a cosmetics ranking app, on their Blueberry Hydrating Honey Lip Balm (henceforth "Honey Juice Lip Balm"), and the results revealed favorable responses in many categories of the survey and, most notably, 98% of those surveyed reported satisfaction with its moisturizability.

Honey Juice Lip Balm is an ultra-high moisturizing lip care product that treats dry lips that are easily chapped with its excellent moisture retention using natural honey extract and blueberries (mentioned by the New York Times as one of the "World's Ten Best Superfoods") through Frudia's cold pressed technology (R VITA W™).

The survey, conducted from December 12, 2018 to January 18, 2019, garnered high satisfaction overall: Honey Juice Lip Balm's moisturizability satisfaction (the most important function of any lip balm) was 98%; beneficial cheilitis (chapped lips) treatment satisfaction 93%; scent satisfaction 92%; affordability satisfaction 92%; and likely to recommend to others was 90%.

Frudia's Honey Juice Lip Balm can be purchased via Frudia's online mall, the NAVER Smart Store and GLOWPICK's Store Channel, and is 30% off at Olive Young's online and offline stores for the entire month of February.
Jangup Korea Cosmetic Industry News, 22nd Feb. 2019



게시글 등록시에 입력했던 비밀번호를 입력해 주세요.